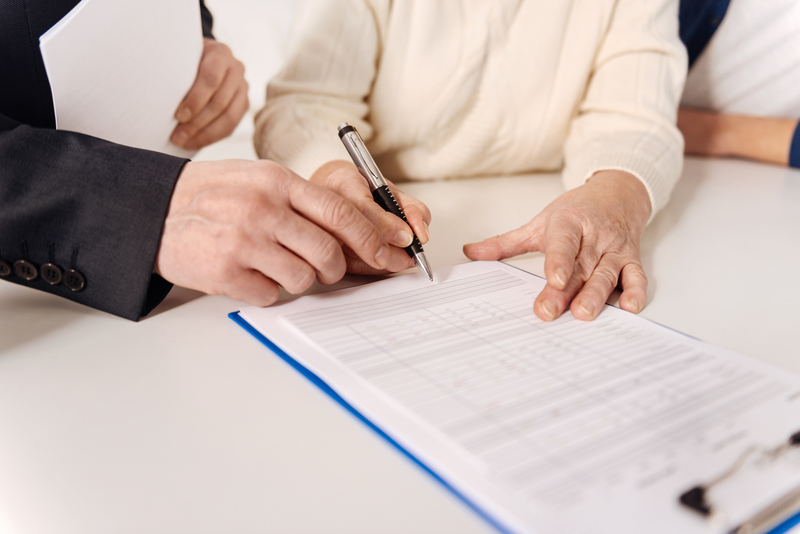 Recently, the Financial Industry Regulatory Authority (FINRA) issued a new regulation to protect senior investors from unscrupulous financial advisors and brokers. Rule 3241 limits the ability of a broker-dealer to be named as a beneficiary, executor, trustee, or power of attorney for one of their customers. Broker-dealers must provide written notice to their firm, and the firm must assess the situation and determine whether to approve or disapprove of the fiduciary relationship.
Financial Advisors' Exploitation of Senior Clients
Senior investors are at particular risk of exploitation or undue influence by fiduciaries. Studies indicate that approximately 5% of cognitively intact older adults admit to having been a victim of financial exploitation. It is believed that the actual rate is closer to 20%. Moreover, the percentage is surely higher for seniors with cognitive impairment and dementia. Unsurprisingly, many times the perpetrators are individuals that the seniors have entrusted to care for their finances, such as financial advisors. One indicator of the scope of the problem is that in the first six months after FINRA instituted a hotline (844-574-3577) for senior investors, the line received more than 2500 calls. These calls resulted in voluntary reimbursement of $750,000 by financial institutions due to improper acts by financial advisors.
Most financial institutions have rules regarding brokers acting as fiduciaries for clients, and arguably reporting of such relationships was already required under FINRA rule 3270 governing outside relationships. But FINRA noted that it has had numerous reports of brokers circumventing these rules by resigning as the financial advisor, transferring the client to another advisor, or having the client name a family member as the advisor. In fact, I recently had a case where the financial advisor employed these exact technics.
New FINRA Rule Preventing Elder Financial Abuse
The new FINRA rule addresses these workarounds of restrictions by defining "customer" to include any customer who has, or in the previous six months has had, a securities account assigned to the registered person at any member firm. In addition, the rule applies where a registered person associates with a new member firm even though the registered person had been named as a beneficiary or to a position of trust prior to joining the firm. And the rule prohibits brokers from instructing or asking a customer to name another person, such as the registered person's spouse or child, to be a beneficiary of the customer's estate.
The new FINRA rule attempts to further address and prevent conflicts of interest and exploitation, setting national standards for fiduciary relationships. The rule prohibits brokers from deriving financial gain from acting as fiduciary beyond reasonable and customary fees for acting as such. The rule lays out specific factors for the financial firm to consider in determining if the broker can act as fiduciary or beneficiary. These include:
Any potential conflicts of interest in the registered person being named a beneficiary or holding the position of trust
The length and type of relationship between the customer and the registered person
The customer's age
The size of any bequest relative to the size of a customer's estate
Whether the registered representative has received other bequests or been named a beneficiary on other customer accounts
Whether, based on the facts and circumstances observed in the registered person's business relationship with the customer, the customer has a mental or physical impairment that renders them unable to protect their own interests
Any indication of improper activity or conduct with respect to the customer or the customer's account (e.g., excessive trading)
Any indication of customer vulnerability or undue influence of the registered person over the customer
While this new rule will certainly not prevent all instances of financial exploitation and theft by financial advisors, it is yet another tool with which financial institutions and federal agencies can identify bad actors, hopefully before they harm their older clients.
If you have any questions about this post or any other elder care and special needs law matters, please contact me.
---
Article provided by Shana Siegel, one of New Jersey's TOP Elder Law & Special Needs Planning Attorneys. Attorney Siegel is a Member of the National ElderCare Matters Alliance, and she and her firm are Featured in ElderCareMatters.com – America's National Directory of Elder Care / Senior Care Resources to help families plan for and deal with the issues of Aging.
If you have additional questions about your family's Elder Care / Senior Care Matters, you can count on ElderCareMatters.com (America's National Directory of Elder Care / Senior Care Resources) to help you find America's Top Elder Care / Senior Care Professionals.  You can find Local Elder Care / Senior Care Experts by Searching our National Database by City and Service Category.  (This Search feature is located on the homepage of ElderCareMatters.com).
The Elder Care / Senior Care Experts that are found on ElderCareMatters.com can provide you with the help you need in a total of 78 different Elder Care / Senior Care Services, including Elder Law, Estate Planning, Home Care, Medicaid Planning, Assisted Living, Care Management, Daily Money Management, Senior Living, Investment Advisory Services, Tax & Accounting Services, Wills & Trusts, Probate plus many other Elder Care Services.
We look forward to helping you plan for and deal with your family's Issues of Aging.
New Regulation Issued to Prevent Exploitation of Senior Investors
was last modified:
January 13th, 2021
by