All Featured Listings Include FREE Membership in the ElderCare Matters Alliance
If you and your company help families plan for or deal with their Elder Care Matters and you would like to "Get the Word Out" about your expertise (in a cost-effective way), then you should get a Featured Listing on ElderCareMatters.com.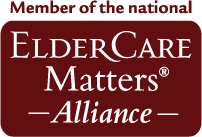 Your Featured Listing includes a host of benefits, including Membership in the ElderCare Matters Alliance – a national, multidisciplinary network of America's TOP Elder Care Professionals who help families plan for and deal with their Issues of Aging.  This is a professional alliance consisting of Elder Law Attorneys, Estate Planning Attorneys, Home Care Providers, Probate Attorneys, VA-Accredited Attorneys, Geriatric Care Managers, Real Estate Agents, Senior Living Communities, and many other Elder Care Professionals and Elder Care Companies.  Together, this national network of Elder Care professionals provides families across America with unparalleled expertise and assistance to help them with a wide range of Elder Care Matters.
Featured Listings on
ElderCareMatters.com
(Benefits and Pricing Shown Below)