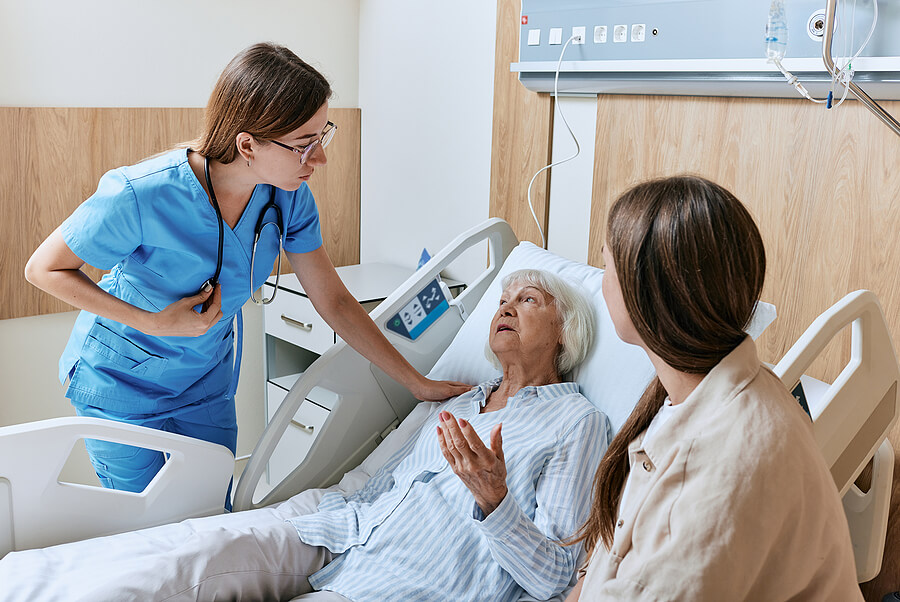 The Medicare Observation Trap happens when patients and families are least expecting it. The patient has a serious health emergency and goes by ambulance to a local hospital. Family members are worried, and the patient might not know what is happening around them. The patient goes to the Emergency Room, where they undergo a thorough evaluation, and doctors decide whether the patient needs to remain in the hospital or can go home.
If you decide to remain in the hospital, the Medicare Observation Trap can limit the care you receive when discharged.
Most Medicare patients rely on Medicare for their hospital coverage and, when needed, up to 100 days in a rehabilitation facility. But what often happens when a patient remains in the hospital for observation without being admitted? The patient might be ineligible for Medicare coverage of rehab.
Hospitals often register elderly patients as "Under Observation" rather than admitting them as patients. Observation can last days or weeks – with the same level of treatment as an admitted patient.
Why would the hospital do this? Hospital billing departments often make this decision, not the doctor. The billing department is concerned about getting paid. Medicare reimbursement might not happen if a Medicare auditor overturns the physician's decision to admit the patient. The observation payment rate is lower and is less likely to be denied—the hospital bills Medicare Part B rather than Part A.
Part A of Medicare coverage only begins upon admission to the hospital. Patients "Under Observation" are technically outpatients, no matter how long they are in the hospital.
This practice impacts care after hospitalization when the trap is sprung. If you are in the hospital on "observation" status, no matter how long you are in the hospital, Medicare will not pay for skilled nursing care in a rehab center. The patient or the family may realize none of this – until a massive bill arrives.
How can you protect yourself or a loved one from the Medicare Observation Trap?
Be clear with your doctors as to the patient's status. Even if they say they are waiting for a bed to become available, insist that the patient be formally admitted and firmly ask for a document showing the patient's admission.
If the patient needs to go to a skilled nursing center immediately after hospitalization, make sure you bring the admission document with you. Let the nursing center's office keep a copy of the document – you must keep the original.
It is an important detail you must remember during a medical emergency,  as it could protect the patient or their family from a financial emergency.
#elderlawyerny #estateplanninglawyer #taxattorney #retirementplanning #specialneeds #inheritance #estate planning #estateplanningattorney #legalneeds #newyorklawyer #longislandelderlaw
Contact us today and learn how we can help you and your family.
---
This article was provided by Stephen J. Silverberg, Attorney at Law, Founder of the Law Office of Stephen J. Silverberg, P.C., one of New York's TOP Estate Planning Law Firms.  Attorney Silverberg and his firm are Members of the ElderCare Matters Alliance and have a Featured Listing on ElderCareMatters.com– America's National Directory of Elder Care / Senior Care Resources to help families plan for and deal with the issues of Aging.
If you have additional questions about your family's Elder Care / Senior Care Matters, you can count on ElderCareMatters.com (America's National Directory of Elder Care / Senior Care Resources) to help you find America's Top Elder Care / Senior Care Professionals.  You can find Local Elder Care / Senior Care Experts by Searching our National Database by City and Service Category.  (This Search feature is located on the homepage of ElderCareMatters.com).
The Elder Care / Senior Care Experts that are found on ElderCareMatters.com can provide you with the help you need in a total of 82 different Elder Care / Senior Care Services, including Elder Law Firms, Estate Planning, Home Care, Medicaid Planning, Assisted Living, Care Management, Daily Money Management, Senior Living, Investment Advisory Services, Tax & Accounting Services, Wills & Trusts, Probate plus many other Elder Care Services.
We look forward to helping you plan for and deal with your family's Issues of Aging.
Visit ElderCareMatters.com – America's National Directory of Elder Care Resources.
WHAT IS THE MEDICARE OBSERVATION TRAP?
was last modified:
August 9th, 2023
by