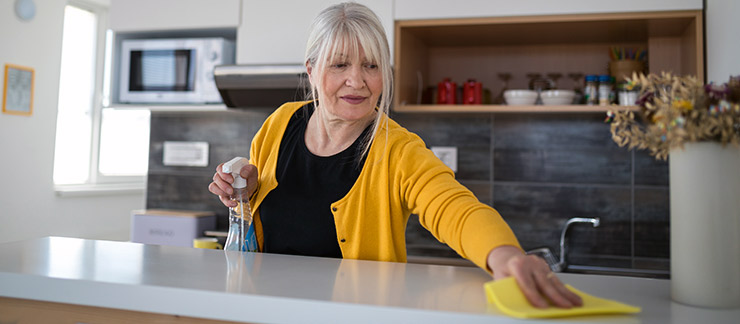 Virus Prevention Tips for In-Home Senior Caregivers
The coronavirus pandemic (Virus Prevention) has disrupted our lives and altered how we interact with each other. It's only natural to be anxious and worried if you're caring for an elderly loved one who could be vulnerable to COVID-19.
So, how can you keep the senior you're caring for safe from an infectious disease such as the coronavirus?
Back to the Basics of Hygiene During the Coronavirus Pandemic
Act as if you have come into contact with a virus that has contaminated your clothes and belongings. This mindset will help you to be extra careful about what you touch and how frequently you wash your hands and use hand sanitizers and wipes.
You're clean and ready to provide care if you wash your hands, put on your mask, don't touch your face, and clean all high-touch objects and surfaces. It's good to wear gloves, but not if wearing them creates a false safety net. Gloves still get dirty, and you can spread germs. Don't forget to change gloves often, and wash your hands as well.
Much of the work in preventing viruses from spreading is observing basic hygiene.
These are things people should be doing anyway, whether they're caring for the elderly or not. Keeping a mask on is important, because it keeps you from touching your face.
The Principle of Separation
Basic advice to prevent the spread of viruses is to keep objects separate and clean, and minimize surfaces that germs use to travel from one location to another. Also, follow these hygiene tips when tending to a senior or others in your care:
Put long hair up
Leave jewelry off, or only wear minimal and washable pieces of jewelry
Bring clean shoes to put on in a house where you're providing care so you don't spread anything you walked on all over the house
Wear short sleeves. If you're cold, wear a light jacket but take it off when providing care
Wear clean clothes, and only wear clothes once before washing them
Use bags that can be wiped down and disinfected
Grocery Shopping and Errands
Don't bring anything unnecessary into a store
Wipe down contact surfaces such as door handles, keys, credit cards, and grocery bag handles (especially if someone else bagged groceries for you)
Have a hand sanitizer with you at all times and keep sanitizing wipes in your car
Cleaning and In-Home Tasks
Before anything else, take your dirty shoes off and clean them. Always make sure to wash your hands, put on your mask, and then you can:
Wipe down high-touch areas: doorknobs, faucets, counters, remotes, etc.
Wash fruits and vegetables if you're cooking and make sure to sanitize the cooking/prep area before and afterward
Virus Protection for Seniors
Seniors can be the most vulnerable individuals to infectious diseases, especially COVID-19. If you're responsible for the health and wellness of an older adult, follow these safety tips:
If you need to drive with your elderly loved one, avoid commuting with additional passengers
Have your senior wear a mask whenever anyone else is in the house, especially if close contact is needed
Don't let your loved one go to the store, but definitely go outside because fresh air and sunlight are essential to health and human life. If they are going for walks, have them go with a buddy – at a safe distance.
Reinforce hygiene habits: If you're taking care of someone who is forgetful or distracted, remind them to wash their hands after eating and using the restroom.
Pay extra attention regarding hygiene habits for bathing and other physical contact tasks.
Use these suggestions as helpful tips, but follow CDC guidelines first. These recommendations as well as CDC's guidelines are useful in preventing the spread of any illness, not just COVID-19.
If you're interested in more information about how home care can help you and a senior loved one, Contact a Home Care Provider Near YOU who is listed on ElderCareMatters.com – America's National Directory of Elder Care / Senior Care Resources.
This article was provided by Bob Dailey, Owner of Visiting Angels East Valley in Mesa, Arizona – one of Arizona's TOP Home Care Provider.  Bob Dailey and his company are Members of the National ElderCare Matters Alliance and have a Featured Listing on ElderCareMatters.com– America's National Directory of Elder Care / Senior Care Resources to help families plan for and deal with the issues of Aging.
---
If you have additional questions about your family's Elder Care / Senior Care Matters, you can count on ElderCareMatters.com (America's National Directory of Elder Care / Senior Care Resources) to help you find America's Top Elder Care / Senior Care Professionals.  You can find Local Elder Care / Senior Care Experts by Searching our National Database by City and Service Category.  (This Search feature is located on the homepage of ElderCareMatters.com).
The Elder Care / Senior Care Experts who are found on ElderCareMatters.com can provide you with the help you need in a wide range of Elder Care / Senior Care Services, including Elder Law, Estate Planning, Home Care, Assisted Living, Care Management, Daily Money Management, Senior Living, Investment Advisory Services, Tax & Accounting Services, Wills & Trusts, Probate plus many other Elder Care Services.
We look forward to helping you plan for and deal with your family's Issues of Aging.
Virus Prevention Tips for In-Home Senior Caregivers
was last modified:
November 13th, 2022
by