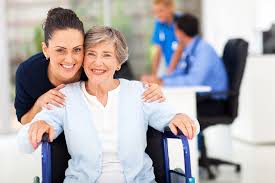 Start planning now to secure a happy, healthy and worry-free future
It's no secret that as we continue to age, our physical health faces more and more challenges. Even with a healthy and mindful lifestyle incorporating a nutritious diet and moderate exercise, the truth is that the human body naturally declines into its advanced years. What's not so well-known, however — or well-understood — are the multitude of long-term health care options available for elders in the United States.
Are you familiar with the term "Medicaid," but unsure what it means for you personally? Have you read into probate in the past, only to find yourself more confused and uncertain about how a legal process fits into your long-term health? Are you a military veteran who's served in the past, but unclear how to successfully navigate Veterans' Benefits?
Providing Clear and Authoritative Answers to Your Senior Care Questions
ElderCareMatters.com understands the often complicated and overwhelming nature of long-term care planning. As America's national elder care resource directory and trusted elder care article database, we aim to clarify and simplify your senior care research. Our articles about senior care cover a wide variety of common and important issues pertaining to elder care planning and many are written by senior care experts in their respective fields.
As prolonged medical care and benefits for seniors continue to become more and more of an important matter for citizens in the United States, we encourage you to learn more about Veteran's Benefits, Medicaid, probate and other essential aspects of successful long-term care planning.
Long-Term Care Benefits and Planning Explained and Simplified
Medicaid
Countless businesses across the U.S. specialize in helping families and elders enroll in a Medicaid or Medicare program, and helping these people find a trusted provider that falls under their coverage. While Medicare is a federal insurance program, Medicaid is a federal assistance program serving low-income people of all ages — not just seniors — in the United States. With Medicaid coverage, patients generally pay none of costs for covered medical expenses, though sometimes a small co-payment may be required.
Most services typically covered under Medicaid include various inpatient and outpatient hospital services, physician services, home health services and laboratory and/or x-ray services. Additional services such as prescription drug coverage, physical and occupational therapy and case management are usually considered optional benefits.
It is imperative to attain health care coverage into the advanced years, and assistance programs like Medicaid make it easy and accessible to get the coverage you or your loved one needs. A certified Medicaid or Medicare advisor in your area can help you make an informed decision; our Medicaid business directory will help you locate a reputable company.
Veterans' Benefits
As the name suggests, Veterans' Benefits are benefits specifically available for retired or separated United States armed forces personnel. VA Benefits can also extend to a veteran's spouse, dependents and survivors. Standard benefits provided by the U.S. Department of Veterans Affairs include:
Assisted living
Burial and memorial services
Educational assistance
Healthcare coverage
Home loans
Insurance beyond medical care (home, auto, etc.)
Active-duty and transitioning service members may also be eligible for VA benefits in the form of career counseling, VA-backed home loans, the GI Bill and other assistance programs.
If your loved one served but does not have healthcare coverage, VA Benefits offer cost-effective and accessible benefits and assistance programs and we encourage you speak with a VA benefits advisor or professional. Remember, our powerful national elder care directory can help you find the right local business for your needs and situation.
Probate
Though probate is not directly related to obtaining health care assistance or insurance coverage, it is an important and often-overlooked aspect of estate planning that can positively or negatively impact a senior's related family members upon their passing.
Simply put, probate is a legal process that occurs after someone dies. The primary function of probate is to execute an established will (if present), and to identify the deceased person's property and have that property appraised. Though there are other means of navigating the legal process after the passing of an older family member, a reputable elder law or estate planning attorney near you can help ensure that your loved one and their closest relatives are as legally prepared as possible upon their passing.
The stress-free relaxation and assurance knowing that the "I's" are dotted and the "T's" are crossed can be a significant contributor to the mental health of your aging loved one and, of course, for everyone in the family.
Long-Term Care: Plan Today, Enjoy Tomorrow
At the end of the day, it's crucial to have reliable access to long-term care. More so, it's important to know how this care will be paid for, what you or your loved ones are responsible for and what's appropriate to defer to an elder care planning professional, such as an elder law or estate planning attorney.
If you don't have all of the answers right now, rest assured that you are in the right place. By spending time reading articles about senior care written by professionals and utilizing our national elder care resource directory at ElderCareMatters.com, you've already taken an important step in your elder care planning journey.
We encourage you to reference these quick links to find Elder Law Attorneys, Estate Planning Attorneys, Home Care Providers and/or Senior Living Communities in your area. If you have any questions, please visit here to contact ElderCareMatters.com.
Understanding Your Long-Term Care Options
was last modified:
February 17th, 2021
by